Urban Technology at University of Michigan Week -42
100+ student learning outcomes + where is the city?
The Fall semester has truly begun in Ann Arbor and just as it seems to happen every autumn, the pace of things is picking up. Since last week we have been spending most of our time on putting things in place to convene Taubman College's faculty working group on Urban Technology. Here's the lineup: Joe Grengs, Anthony Vanky, Rob Goodspeed, Ana Morcillo Pallarés, Mania Aghaei Meibodi, Kathy Velikov, Malcolm McCullough (and me). 🦾
---
Happy Friday. I'm Bryan Boyer, Director of the Urban Technology degree at University of Michigan and this is the newsletter for that program—starting with its very creation. Thanks for reading! If you enjoy this newsletter, please share it with someone who's digitally inclined, civically inspired, and is or has a strong influence on high school students thinking about college!
---
⏮ Working Backwards
This week we've been working backwards, starting with the outcomes that we want students to have and refining the way we describe that to ourselves. This is the second time (at least) that we've been through the exercise and we took the opportunity to transcribe our pile of sticky notes and whiteboard scribbles into something more sharable. Along the way we were inspired by Michael Sorkin, whose list of 250 Things an Architect Should Know is fantastic, and reformatted our "outcomes" document in a similar way. What should a student of Urban Technology be capable of? If you have thoughts, please share by adding to the list.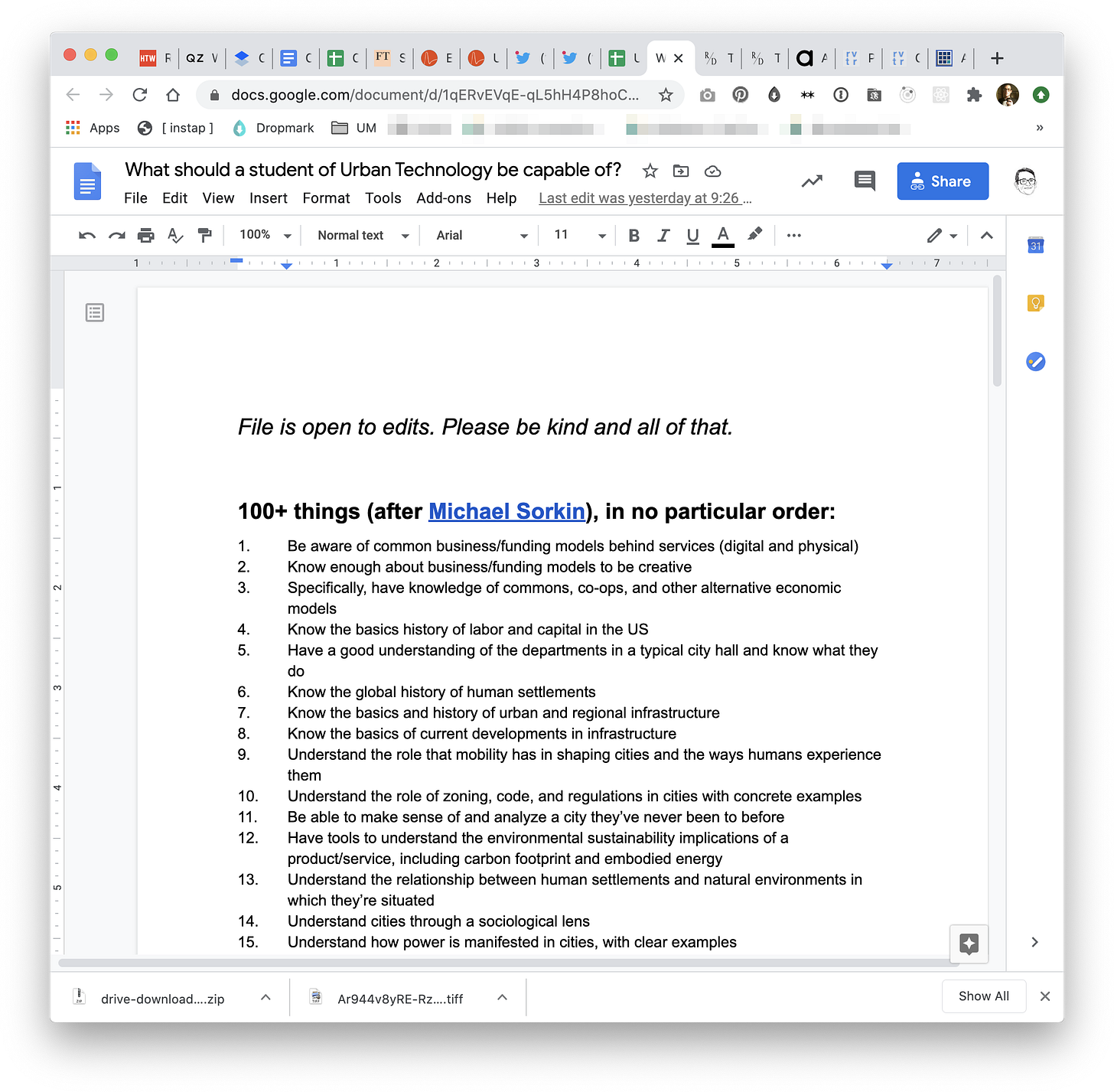 So far we've been lucky to already have ~10 or so items suggested by people from various corners of the world after posting it to a polite corner of Twitter.
🖼 Postcard from Michigan - Where is a City?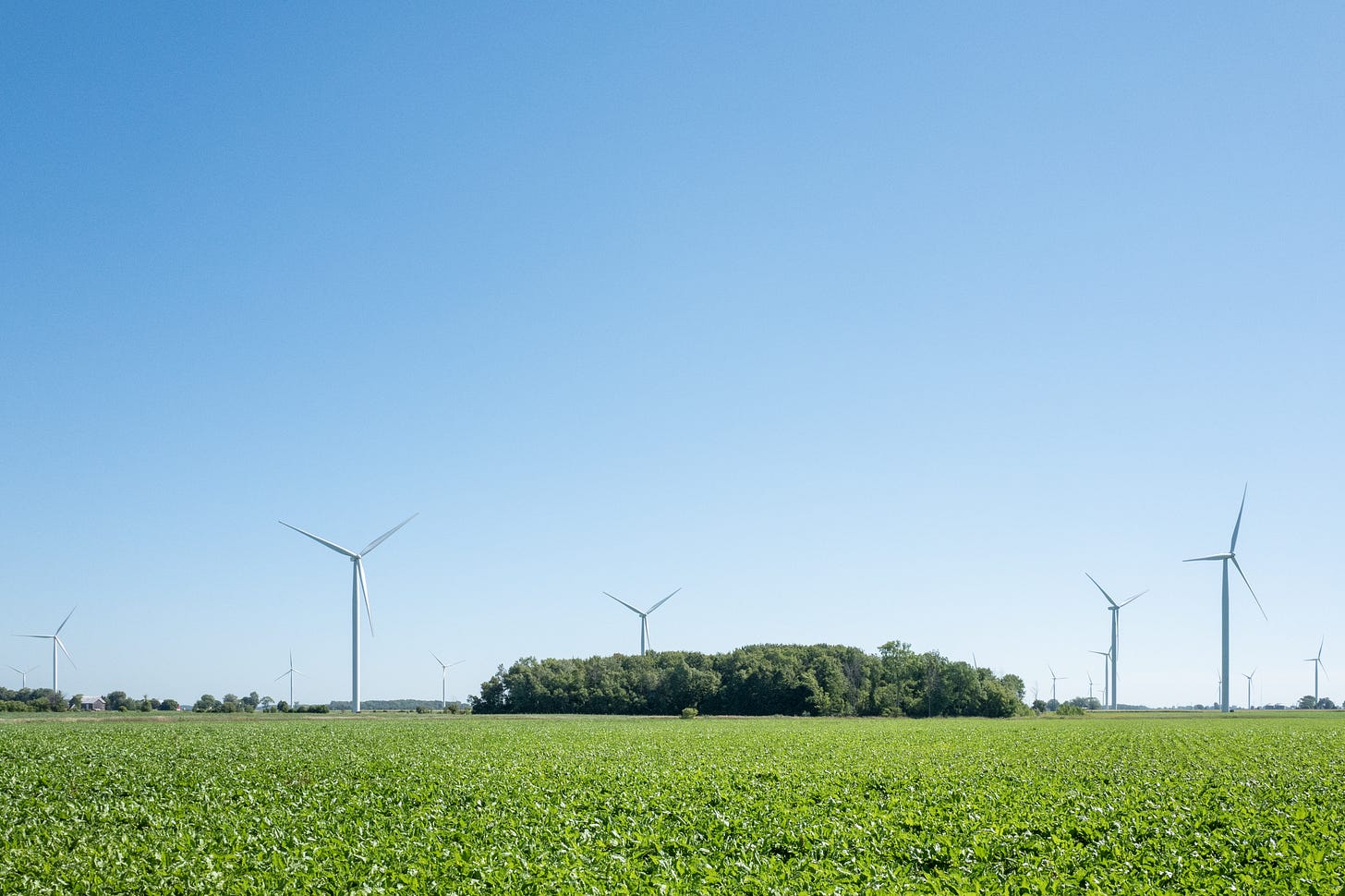 Somewhere north of Bad Axe, MI
With a name like Urban Technology, it's definite that we're focused on cities, but how do we define "city" in this case? When we talk about Urban Technology being in cities, where is the city exactly?
Stand in the center of downtown Detroit, like the snapshot from Hart Plaza some weeks ago, and it's clear that you're "in" the city. Drive for 30 minutes and you will probably still be in the city. Drive an hour and you're likely in a suburb (or an exurb) but you may not have noticed the change—where does the city end and the suburb begin? Beyond the political lines that demarcate one jurisdiction from the next, how do we know when we're in a city or not? There are, of course, lengthy and careful discussions of a question like this among the Planning faculty, and when it comes to aspects like density there are certainly ways to categorize different territories. But what about infrastructure like energy, or critical life-support like food production? Those systems are very often located beyond the political boundaries of cities, but they're nevertheless not that separate from city life. Cities would collapse without a two-way relationship with their surrounding regions. You may not be able to see any vegetable fields from Hart Plaza in Detroit, but you also wouldn't be able to "see" Detroit, in the historical sense, without vegetable fields.
Driving north from the city on a recent exploration I came upon this field of… looks at notes… "vegetables" that is watched over by a quite stunning array of wind turbines. Some of the power and calories generated on this plot of undeniably rural land will make its way to rural light bulbs illuminating rural tables with farm-fresh meals, but the majority of those calories and kilowatts are likely to find their way into a city. So I ask you, are the wind turbines above urban technologies or not?
Obviously this is a rhetorical question for now (though replies are very welcome), but it's emblematic of the kinds of careful steps we need to take while we build this degree program. Terms like "Internet of Things" and "Smart Cities" and perhaps even "urban" are so present in the lives of 21st century humans who read newsletters like this one that they're tempting to accept as well-defined, but in fact they are—at best—loose bundles of meaning. Humans have made settlements with various degrees of planning for thousands of years and architecture is one of the oldest professions, and "urban technology" by comparison is a spring chicken, to stretch that farm metaphor just a little bit further. It's tempting to search for a definition to "urban technology" but for the time being I'd prefer that we read the term as an invitation rather than an answer. What does urban technology mean to you? And what should an urban technologist be capable of doing?
Links
This week it's a real assortment, so buckle up and click liberally.
🌳 ASCII art meets Actor Network Theory to explore permaculture ecologies. Via Shannon Mattern.
🌲Two-minute tutorial on drawing pixel-art trees.
🎄Amazon Drivers Are Hanging Smartphones in Trees to Get More Work. Expect more geolocation arbitrage in the years to come.
🐳 SoftBank, the mega-investment firm, appears to have demonstrated once again that "tech" is not just 1's and 0's but commas. Specifically, the use of many, many commas lined up in dollar amounts to produce out-sized influence.
🚝Footage from 1902 depicting Wuppertal Germany's suspended railway has been colorized and upscaled to 4k video. Cities have always been full of technology.
🌎Land acknowledgements can also be made for the territories in which servers are located, which takes on new relevance this year. A thread from @rorys on Twitter.
⌚︎Mechanical time led to the prominence of time travel fiction and here's a nice visualization to persuade you (maybe).
🚶‍♂️Dan Hill, who hosted a workshop with us last year, will lecture on 9/10 at 12pm Toronto Time.
---
This week: Memos. But useful ones (like the memo out of which the document above was carved). A deep dive into online resources for learning Python. Some credit hour wrangling in a massive spreadsheet that Trey put together. Peripheral research. 🏃‍♂️